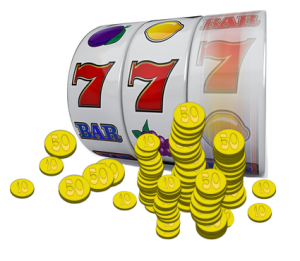 Online bingo rooms are not only home of entertaining, sometimes sophisticated, always funny bingo games, but often propose a wide range of casino games too, including the popular slot machines. The most thrilling and exciting slot games are certainly those providing a Progressive Jackpot. They are a major attraction within casinos – both offline and online – because they sometimes give huge amounts of money, even millions of pounds, as a prize to the lucky winner. The mechanism of progressive jackpot machines is simple, several slot machines are linked together and each time a player places his bet, a part of it, goes to build the jackpot.
There have been countless winners of progressive jackpot online slots over the years. Some slots will do down in history as being the very best of their kind (Mega Moolah, and Mega Fortune spring to mind). Others have attracted a huge audience in time but have failed to offer the same level of prizes, such as Playtech's Mystery Marvel Progressive Jackpot Network games. To this day, four of the internet's most beloved slots have ended up paying out tens of millions of pounds and here is the run-down on those games, as well as the biggest online slot jackpot wins they have coughed up in their time.
The Dark Knight
Microgaming's Dark Knight slot may have been discontinued, but in its day it was one of the best paying slots. The Batman themed slot based on the film of the same name was ended in 2016, after delivering one of the tastiest progressive jackpot prizes on the net back in 2012. A UK player spinning the reels over at Butler's Casino managed to scoop £5.8 million playing the game. John Orchard has previously been employed at the Job Centre, but now he has his own things going as you would with over five-million quid under your belt.
Hall of Gods
Scandinavian giants Net Entertainment have two huge paying slots, namely Mega Fortune and Hall of Gods. The latter is a Norse mythology themed game and it regularly coughs up wins worth several million pounds in cash. The biggest win ever recorded on the game, though, occurred in 2012 when a Swedish woman pocketed over €7.6 million playing it. Naturally she decided to spend the money on a house, a new car, several trips to Thailand (Thailand is to Swedes, what Benidorm is to Brits) and paying off loans. Even today her haul on this slot remains the Unibet Casino record for a progressive jackpot and they have made five millions since they first opened in 2009.
Mega Fortune
Mega Fortune is Net Entertainment's flagship progressive jackpot slot. This game made one lucky Norwegian player a multi-millionaire overnight after he scooped €11.7 million playing the game at Betsson. The Mega Fortune slot has paid out more progressives than any other online slot since it was launched and that record (set in 2011) wouldn't last too long. By 2013 one Finnish player managed to scoop an impressive €17.8 million cash prize playing the same game over at PAF Casino. What makes this win even more impressive is that the player only put up a €0.25 per spin stake. The rate of pay is an astounding 71,200,000:1 ratio.
Mega Moolah
Mega Moolah is Microgaming's most famous progressive jackpot and there were many to choose from. Big wins on the slot occur several times a year. One of the most memorable wins include the €6.3 million that one Greek player managed to win at River Belle Casino right in the middle of Europe's financial crisis and recession. That win on the African safari themed slot pales in comparison to the next win though, which currently holds the record for the biggest ever progressive jackpot paid out on an online slot.
The Mega Moolah record jackpot was won by Lance Corporal Jon Heywood, a 26-year-old soldier from the United Kingdom. This Crewe-based player managed to scoop £13,213,838 playing the slot. When the pound was converted into Euros (with the exchange rate at the time of the win), the jackpot was worth €18,000 more than the Mega Fortune record jackpot.
Records, records, records
There has been no shortage of records in the online slot world. Of course, online slots are still some way off rivalling the biggest land-based wins. That record was currently set in 2003, when a player won just under $40 million playing a $100 stake on the Megabucks slot over at Excalibur Hotel and Casino, in the gambling capital of the world, Las Vegas.
The trend has seen bigger and brighter wins occurring all of the time. Given how frequently the biggest online slots pay out, you shouldn't be too surprised if even Mr Heywood's £13.2m haul is knocked off its perch soon enough.